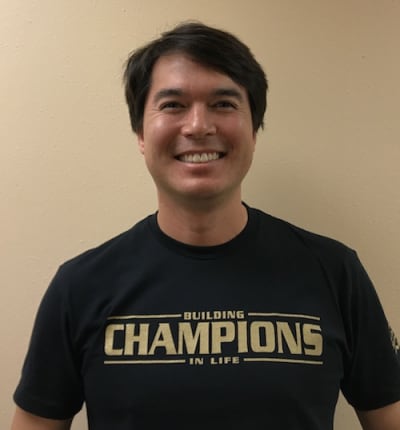 Master Joshua Hong
Eternal Martial Arts
was
established in October of 2009 by Master Joshua Hong,
however
that is not the beginning of the story. Mr. Hong was a prominent member of United Tae Kwon-Do for 15 years (since 1996) with 2 successful locations. Master Hong began learning under Grandmaster Frank Santarose at the age of 4. Upon attaining his black belt, Mr. Hong left the Tae Kwon-Do world on the insistence of his father. When Master Hong turned 16, he returned to Master Santarose as an employee, student,
and
apprentice. After 2 years of instructor training, Master Hong (19 years old) opened his first location on Jones Rd. on November 1st, 1996. Subsequently, he opened a location in Pearland, where he and his wife Dana Hong lived when they were first married in 2000. Since then, Master Hong has moved his 1st location from Jones Rd. to his own stand-alone building on Steeplecrest Dr. Also, the Pearland location has moved from a simple
warehouse,
to a sizeable and prominent location in the heart of Silverlake in Pearland. The roots of Eternal Martial Arts are still grounded in the rigorous and complete system of traditional I.T.F. Tae Kwon-Do. Since October 2009 though, Master Hong has developed his program to include aspects of several martial arts, namely: self-defense (real-defense), weapons training, and grappling techniques.
Joshua Hong obtained his
first degree
black belt on January 24th, 1986. Currently, Master Hong holds a
6th degree
black belt in Tae Kwon-Do. He
was also bestowed
the rare honor of becoming a "Sabumnim" (Master), before obtaining his
5th degree
rank. His principle training still remains Tae Kwon-Do, but he pursues the knowledge of martial arts wherever it may be. He embraces a philosophy stated by Bruce Lee: "Absorb what is useful; Disregard that which is useless."
Joshua and Dana Hong have 3 children: Wesley, Gabriel, and Katelyn Hong. They reside in Northwest Houston near the Jones Rd. location.